Email Readings
Metaphysical Email Readings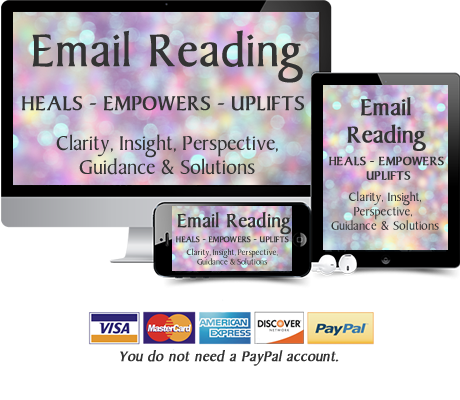 Do you want to receive the answers, direction, guidance, support, healing and mental clarity you are seeking so you can feel better and move forward with confidence?
A metaphysical email reading can help.
Quantum physics accepts that the universe, including you and I, are made up of energy. The energy that we are made of, is the same energy that the ocean, lakes, forests, mountains, car you drive, cell phone you talk on, and clothes you wear are made of.
Everything and everyone in our world is made of of energy and is connected to everything and everyone else through an intricate energy web.
A metaphysical email reading is no different than a reading in which you are physically present. You can reside anywhere in the world and as long as you set the intention for me to connect to your energy I can read and interpret the energy surrounding you and your current life situation even if we are thousands of miles apart in distance.
All that is required is a focused energetic connection and permission from you to connect to your energy field.
So if you ask, "Are email readings as successful as in-person readings?"
The answer would be a definitive YES!  All you have to do is be open and set the intention to receive.
All correspondence for this reading occurs via email.  When your reading is complete, it is emailed directly to your inbox.  It is carefully formatted so you can easily read and understand it. Email readings are extremely powerful and clients receive amazing results.
All you really have to do is set the intention that you will get the answers you need for your highest and best good and the highest and best good of all involved.
Information received directly from Spirit and your Angels and Guides is translated, offering you insight, fresh perspective and positive solutions to help you release the resistance and struggle in your life so you can replace it with peace, joy and tranquility.
The benefits of having and Email Reading are:
You have something tangible to refer back to when you are feeling discouraged or need clarity
You can access your reading where ever you are to maintain anonymity
An opportunity to ask anything you want without having to talk about it, which in many instances, makes seeking help & guidance easier or more comfortable
You don't have to take notes.  Everything is already typed out for you
Simple and convenient with no appointment necessary
Easy to fit into busy schedules
Convenient in eliminating time zone issues for International clients
Whatever your current situation is, your life force energy is connected to it.  Sheri can access your energy as you set the intention for her to do so.  If you choose to ask specific questions, it doesn't matter whether you speak, write, type, or think them.  It's all energy.  As a metaphysical intuitive healer she can read your energy from anywhere.
She acts as a clear channel, connecting to your spirit self to help you identify blocks, beliefs you may want to let go of, hidden opportunities, your own connection to spirit, your own inner guidance and more.
You are provided with the guidance and insight you need to move forward.  The final choice of action and the direction you choose to take is always yours to make.
Often times you will find that the guidance you receive in you email reading confirms what you already knew consciously or subconsciously.  It helps empower you with greater wisdom to confidently move forward in your life.
Please view your reading as prescriptive rather than predictive.  No metaphysical intuitive can see your future with one hundred percent accuracy.  If they claim they can, beware.
We all have what is called "free will", which means we, can change the course of the future in an instant based on our:
Thoughts
Feelings
Emotions
Focus
We all have the ability to co-create our realities and you can course correct or change the direction of your life at any given moment. Life is always giving us choices and we create our lives based on the decisions we make when presented with those choices.
Gain powerful intuitive insight from a spiritual perspective regarding your business, career, family, relationships, or whatever other human experience life may have thrown at you.
The loving intuitive guidance, compassion,  fresh spiritual perspective and practical prescriptive solutions will help you so you can feel better and enjoy your life again.
Due to international demand please allow 5 to 7 business days for your Metaphysical Email Reading to be delivered to your Inbox.
What to do next?
Decide if there are any specific questions (limit 3 per reading) you would like to ask.  Otherwise you will receive a general reading regarding your current life circumstances.  No need to worry if you don't have any specific questions.  Spirit always brings through the messages you need for your highest and best good at the current time.
Click the green ORDER NOW button
When you are redirected to the Thank You page, fill out the form as instructed and ask your questions if you  choose to.
Set the intention to lovingly permit the energetic connection for your reading
Watch your inbox for you reading.  It takes about 3-5  business days.  Your email reading will be coming from readings at seizethepowerwithin.com, which you may want to add to your trusted senders list.
PRIVACY: All Readings and sessions are 100% confidential.
NOTE: You do not need a PayPal account. You may use your credit card without signing in to PayPal.
ALL SALES ARE FINAL
Price US$:
$375
All Email Readings are non-refundable. There are no refunds on metaphysical digital services once they are ordered.  Please think through your purchase carefully.  Our clients are the best of the best, which makes this is a non-issue.
Helping clients like you, all over the globe, make significant and lasting improvements to their lives for over 25 years, including but not limited to: